The Western Ohio Regional Training Center (WORTC) proudly serves the counties of Allen, Auglaize, Champaign, Clark, Darke, Greene, Hardin, Logan, Mercer, Miami, Montgomery, Preble, and Shelby. WORTC's offices and training site are located at:
1312 Research Park Drive, Beavercreek, OH 45432.
The WORTC does approximately half of their staff training at locations other than the center in Beavercreek to increase the accessibility for the entire region. Be sure to check your confirmation closely for your training location.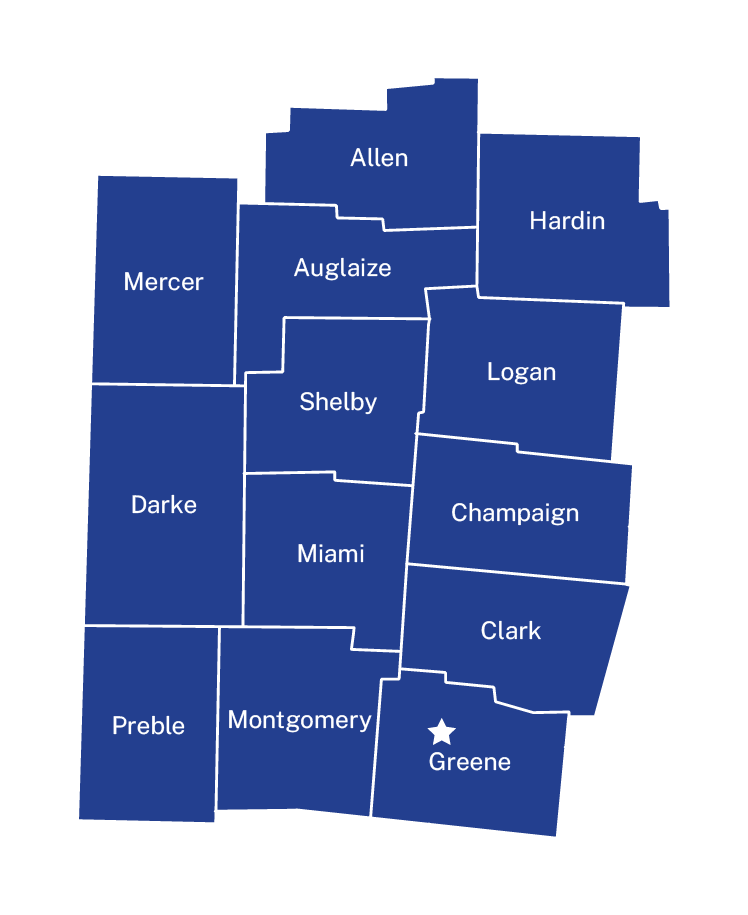 PCSA staff, caregivers, and assessors should log into CAPS LMS to view and enroll in WORTC training. Anyone who does not have access to the CAPS LMS should review PDF versions of WORTC training calendars linked below and use the appropriate guest registration process detailed below.
Internal guests are county staff employed at a PCSA, JFS, or CSEA with a State of Ohio User ID (SOUID) that do not have a child/adult protective services role. These guests will contact their RTC directly to request access. Internal guests do not complete the guest registration form below.
External guests include but are not limited to retired staff, law enforcement, teachers, court-appointed special advocates, mental health professionals, and court staff such as public defenders and prosecutors. External guests will not be provisioned access to the CAPS LMS but will be added to the requested instructor-led session on a space-available basis. External guests must complete the guest registration form below to request access to training. You will need the session locator # listed on the training calendars linked below to complete the form.
Interested in participating in the OCWTP coaching program?  Search for "Coaching Request Form" in the CAPS LMS and follow the instructions to submit the form.  RTC staff will contact you with additional information upon receipt. 
Cancellation & Weather Policy
WORTC will not move forward with a training with less than 8 registered participants. There are exceptions to this outlined in the OCWTP Policy Manual.  You will be notified via email if your course has been canceled. If a training is canceled the day before the training is scheduled or the day of the scheduled training as a result of an emergency with the trainer or due to the weather, WORTC will email all participants requesting a response that you received the email. If we have not received a response, we will reach out to the phone number listed in CAPS LMS (link to CAPS LMS page). If Greene County offices are closed, WORTC will also be closed. All trainings virtual or in person will be canceled as a result. Please make sure to have your cell phone number listed in CAPS LMS (link to CAPS LMS page).
Main Number: (937) 562-6600
Fax Number: (937)-562-6650
NOTE: Be sure to put "OCWTP TRAINING " in the subject line of all emails to WORTC.