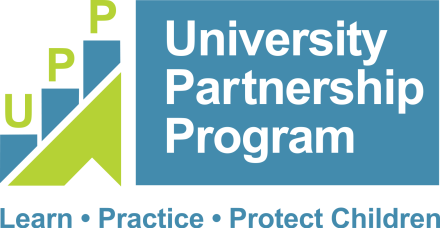 The University Partnership Program (UPP) is a unique collaboration among the Ohio Department of Job and Family Services, twelve of Ohio's schools of social work, PCSAO, Ohio's public children services agencies (PCSAs), and the Ohio Child Welfare Training Program, (Ohio's University Consortium for Child & Adult Services—OUCCAS).
Linda Helm, MSW, PhD, LISW-S
Asst State Director of UPP for OUCCAS
helml@ohio.edu
(937) 901-1189
The purpose of UPP is to bolster Ohio's professional child protection workforce by increasing the number of well-trained graduates with both bachelor's and master's degrees in social work who enter the child welfare field. Studies show that those graduating from a program such as UPP stay longer and are more satisfied than those who did not complete such a program prior to employment.
UPP students take special courses on child protection casework, complete a field placement at a PCSA, and upon graduation receive a financial incentive after accepting a casework position in an Ohio PCSA. Those who complete the program may not have to take the required core training (102 hours) that all other new caseworkers must complete within their first year of employment (NCWWI, 2022).
The following resources were developed by PCSAO's Human Resources/Safety Committee to assist UPP graduates in comparing work requirements and benefits among multiple agencies. Experience shows that one agency may offers more in salary but offer less in its total package due to differing contributions to fringe benefits and different requirements and reimbursement for circumstances such as "being on call." Students can use "Agency Benefits Comparison Issues" to see what they should consider prior to completing the "Evaluating Offers Worksheet."